Check out this amazing, hand-crafted journal with the characters from the Thurian Saga!  It was created by Neko, owner and artist of Tempest Creations.  I've featured her work before on the Facebook page for The Thurian Saga, but this is a whole different level of cool!  She has created images of Vanarra and Sahnassa embossed in leather!  Then, she painted them!  It's a beautiful and amazing piece of art that I now get to carry and use!  Please, if you haven't, check out her work – she does masquerade masks, wrist bands, leather badges, and much more!  Also, her special touches are amazing – the way she wraps what she sends to you is first rate.  She also has a leather leaf embossed with my name inside the cover!  Just totally over the top – thank you, Neko!  I will treasure this always!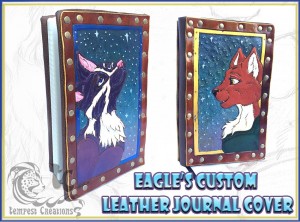 On the writing front, I'm making good progress editing The Rescue, and I have two more chapters of Feasting on Memories for the website.  I'm waiting on my cover artist to clear some space on her schedule for me so that I can get drawings for those chapters, and then I'll put them up!
A reminder to everyone who would like to – good reviews on Amazon and Audible are the best way for you to support the books, and I would appreciate them very much!
We're still dealing with the after Christmas clean-up and a few sick folks around the house, so progress hasn't been as fast as it could be, but such is life!  Take care, and hopefully, you'll hear from me soon!
Take care, and see you in the future!
JTL